Original K9-Powerharness VS. Julius IDC-Powerharness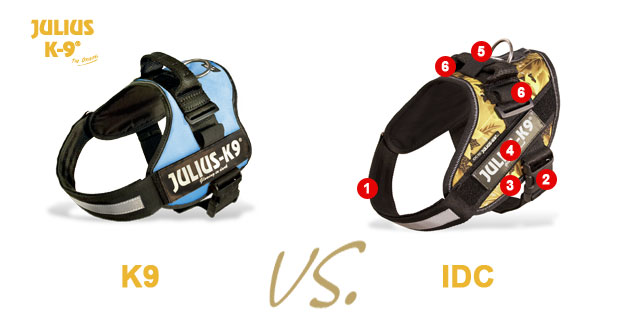 Differences between K9-Powerharnesses (1997) and IDC Powerharnesses (2010):
The reflective chest straps of IDCR Powerharnesses are formed that way to minimize the load on the neck of the dog.
The reflective chest straps of IDCR Powerharnesses are sweeping upward to the direction of the leash holder ring and in case of using the right size they make the throat of the dog more free.
The saddle part of IDCR Powerharnesses much less covers the side part of the dog.
The message which can be fastened to IDCR Powerharnesses can be easily seen sidewards and from above.
Size 0 and larger IDCR Powerharnesses have safer rubber strap grib fixings.
Size 0 and larger IDCR Powerharnesses are provided with torch holders.

Either of them is chosen, IDCR or K9R Powerharness, the use of dog harness equipments is recommended on both types of harnesses, in any stages of the growth of the dog. By putting dog harness equipments on a dog, we will get a steady load distribution and a more stable chest strap and hereby we can ensure a more comfortable wear for our dog.
So IDCR harness is the upgraded version of K9R Powerharness. The water-repellent K9R Powerharness with hook & loop patches and reflective elements also contains everything we need for everyday walk with our dog. You should consider both types to choose from, because for special dog shapes K9R Powerharness can be more fitting. Both harnesses can be the perfect choice, if we would like to make everyday doggy moments to be more beautiful by using a heavy-duty and quality harness.
The neckline design of the saddle part of IDCR harness is similar to the Y-harnesses.
The chest strap of IDCR harness is more inclined.
The color range of IDCR harness is extremely wide.